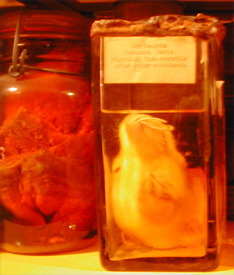 U.S. National Parasite Collection
U.S. Department of Agriculture
Agricultural Research Service (ARS)
Beltsville Agricultural Research Center (BARC)
Beltsville, MD
(301) 504-8444
www.lpsi.barc.usda.gov/bnpcu/
Most of us consider parasites the lowest form of life. They feed off other creatures, usually following the food source straight to the alimentary canal, often settling at its nether end. We find this exploitative existential condition unforgivably dirty, nasty and opportunistic, so we turn it into the stuff of horror films: Dracula, The Tingler, Alien, Cronenbergís libidinous pseudo-organs in Shivers. These things get under our skin and eventually snatch our bodies and our minds...making Pod People wherever they go.

Look at the real parasites--the tapeworms, ticks, flukes, fleas, and so on--another way, and they can be a case study of lifeís marvelous diversity and determination. Natureís first law seems to be "find a niche and fill it," and the parasites just went where no others dared to tread. The same evolutionary law could apply to scientists. When all the good stuff is taken, itís time to take up with parasites. But once you join the parasitologists, youíll see how important the bugs they study really are.

Not surprisingly, the DC area is one of the greatest places in the world to view parasites--and not just because Congress meets here. In all seriousness, possibly the world's largest collection of parasites is housed in nearby Beltsville, Maryland, on the campus of the USDA's Agricultural Research Service. Itís just another national treasure weíre lucky to have close by.

The U.S. National Parasite Collection contains approximately 20 million specimens, a number rivaled only by the British Museum. The specimens are contained in more than 100,000 lots, where a lot is a single jar or prepared microscope slide. Some jars can contain thousands of tiny creatures. These numbers donít include several large specialized collections and private donations. And the collection as a whole grows at the rate of 1,000 to 1,500 lots per year.

That's a lot of little uglies, but better here than in your personal business!

Visiting the Collection
Given the small staff, cramped quarters, and security gauntlet, the U.S. National Parasite Collection has not been set up to receive visitors. Casual parasite observers will get an eyeful at the ARS National Visitor Center, where they can temper the horrors with the glories of the Log Lodge (and a fungus hat). You can schedule a tour of the BARC campus by calling the Visitor Center in advance [at 301/504-9403], and they'll bring you by the main parasite compound. Once in a while, Pat admits, with advance notice she can accommodate small groups of enthusiastic visitors.