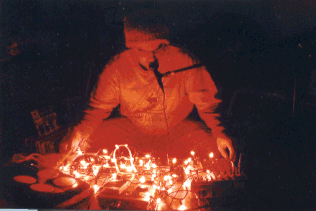 A solo project of Jeff Bagato (aka DJ Panic), Tone Ghosting features a unique homemade instrument he invented himself: playing vinyl LPs with small hacksaw & electronic FX, magnifying, modifying, & energizing the small scrapes & squeaks to create a complex musical vocabulary. The patented "Tone Ghosting process" includes looping these sounds and using them as raw material for new improvisations with a combination of other electronic sounds, including a hotwired homemade synthesizer, drum machine, and/or freeform vocal madness. Tone Ghosting creates a unique sonic universe somewhere between the attack of power electronics & the complex mind-body games of electronica & non-idiomatic free improvisation.

Tone Ghosting has released several CDRs, including Castle Changes on Sockets CDR and others on his own Panic Research Audio label. Most recently, Plastic Voice (2011), documents experiments with lyric fragments, and Quasar Pulsar beep beep (2010), are the first TG tracks recorded in a real studio and feature guest electronics from North Carolina's Promute. In 2007, a mini-CDR documenting the Matt Weston/Tone Ghosting duo accompanied their mini tour of VA/NC/TN. The Wig Fleet mini-CDR received reviews in The Wire and Signal to Noise. Writing in The Wire (March 2007), Byron Coley noted "...jumbles of moist-sounding noise, overlaid with random beat action and effects. It's good, weird homemadeness." And Signal to Noise columnist David Cotner wrote "...tinny woodland creatures playing instruments such as a hacksaw, vinyl, FX, and drum machine....It is heteroglossia made disc, spread out across one-half an hour and that's more than one can usually expect from three twinkling inches" (STN Spring 2007). Writing about Castle Changes in his Noiseweek blog, Wire contributer Marc Masters said TG "uses volume and pace on this one to create little moments of structure and momentum--the timing of some of his pull-backs and push-forwards are just perfect, like an endless string of set-ups and punch lines. Maybe that's the best way to think of Castle Changes' internal clock, like the absurdist jokes in Rosencrantz and Guilderstern are Dead, divining surreal humor from endless loops and infinite possibilities."

Bagato's other current musical projects include Mercury Fools the Alchemist, a trio of Rich Sheehe on ambient guitar, Dan Barbiero on avant classical bass, & Bagato on homemade springamajig; the turntable ensemble Stylus (lead by Jim Adams of BLK w/ BEAR); the electronic trio For Official Use Only with Dave Vosh and Logan Mitchell, Sr; & Bionic Eyes, an electronic noise duo with Raquel Leone. Other off & on projects include the electro-acoustic free improv + poetry group Croniamantal; a post-surrealist turntablism project called Hearasay in Paradox Lust; and the improvising avant punk band Alzo Boszormenyi & the Acid Achievers. He has also performed in the electro-acoustic free improv trio Spaceships Panic Orbit; and as a duo with Violet called Violet Panic.

For almost 7 years, Bagato promoted the Electric Possible monthly series (currently on hiatus) for experimental music in Washington, DC. Extra-musical projects include a bizarro novel Kill Claus! (2010); a photo monograph about outsider environment Johnston's Garage; a book of fiction, Savage Night and Other Stories (2010); a book of poetry, Spells of Coming Day (2010); and the book Mondo DC: An Insider's Guide to Washington, DC's Most Unusual Tourist Attractions(2005), all published on Panic Research Press. From 1989-2000, Bagato edited and published 13 issues of Mole Magazine, a journal of "Outsider Art, Crackpot Thought, Other Music, and the Counterculture."
---
Discography


Tone Ghosting--Seething Labyrinth CDR (Panic Research Audio, 2011)
Tone Ghosting--Plastic Voice CD (Panic Research Audio, 2011)
District of Noise, vol 3, Compilation of Experimental Music from Washington, DC CD + companion loop LP (Sonic Circuits/Zeromoon, 2010)--tracks by TG & Mercury Alchemist
Tone Ghosting--Quasar Pulsar beep beep CDR (Panic Research Audio, 2010)
Mercury Fools The Alchemist--Wind Supports Wood (Panic Research Audio, 2009)
District of Noise, vol 1, Compilation of Experimental Music from Washington, DC (Sonic Circuits/Zeromoon, 2008)
Matt Weston + Tone Ghosting--Live at Sonic Circuits EP mini-CDR (Panic Research Audio, 2007)
Tone Ghosting--Action in the Ruins CDR (Panic Research Audio, 2007)
Tone Ghosting--Wig Fleet mini-CDR (Panic Research Audio, 2007)
Tone Ghosting--Castle Changes EP CDR (SocketsCDR, 2006)
Sockets Audio Zine #2 (one track as Hearasay in Paradox Lust) (SocketsCDR, 2006)
Tarantula Hill Benefit Compilation (one track as Tone Ghosting) (SocketsCDR, 2006)
Spaceships Panic Orbit 36--Live Hell vol.1 CDR (This_000, 2006)
Spaceships Panic Orbit--windows/treesCDR (This_000, 2006)
Tone Ghosting--Jettex Humaine EP CDR (Panic Research Audio, 2005)
DJ Panic--Disques Combats CDR + scratched LP (Panic Research Audio, 2002)
Spaceships Panic Orbit--That Carb in the Circuit Night CDR (Nut Music, 2000)
DJ Panic--Dead Record 2x12" LP (Panic Research Audio, 2000)

Alzo Boszormenyi and the Acid Achievers--The Doug Sessions CDR (Nut Music, 2004)
Alzo Boszormenyi and the Acid Achievers--Live at O'Carrolls CDR (Nut Music, )
Alzo Boszormenyi and the Acid Achievers--Good Friday 1996 CDR (Nut Music, )
Alzo Boszormenyi and the Acid Achievers--Live at the Galaxy Hut CDR (Nut Music, 2003)
Alzo Boszormenyi and the Acid Achievers--Present the Illusion (vinyl EP-Black Bean & Placenta; CDR--Benelux Music [first edition] Nut Music [second edition])
Alzo Boszormenyi and the Acid Achievers--Ouagadougou (Nut Music)
Alzo Boszormenyi and the Acid Achievers--L14 (Nut Music)
Alzo's Rex Ego Army--I'm Your Hardcore Daddy CDR (Nut Music, 1991)
Alzo Boszormenyi and the Acid Achievers--Live in the Suburbs: I'm Going to Kick Your Ass CDR (Nut Music)
Alzo Boszormenyi and the Acid Achievers--No Good Men 7" (Nut Music)
Panic Sound System--Valley of the Paperdolls Soundtrack CDR (Nut Music)
Various Artists--The Adventures of Pablo the Circus Boy (includes Sal Amoniac, Alzo) CDR (Nut Music)
Various Artists--Beasts of the Night Gather Together: A Tribute to Suckdog (with Finn McCool and McCool's Navy) (enhanced CD; Nut Music)
Sal Amoniac--star heart spiral cassette/CDR (Nut Music)
Rex Morgan MD Trio--The Sound of One Hand Clapping cassette/CDR (Nut Music)
Rex Morgan MD Trio--Silence is Golden cassette/CDR (Nut Music)
Rex Morgan MD Trio--Sonic Excrement cassette/CDR (Nut Music)
Infant Mort--Born Dirty to Last Forever cassette/CDR (Nut Music)