Panic Research Audio releases feature handmade packaging and labels in limited editions as noted.
All releases are $5 each, unless otherwise indicated. Mail orders please add $3 first item + $1 for each additional item.
Manilla series CDRS
Disks are packaged in gatefold manilla sleeves hand decorated with some combination of linoleum block printing, painting, stickers, and tipped-in artwork in editions of 50 copies.
---


Sonic Suicide Squad--Songs for Slaughter CDR
The bastard love child of Last Exit and a trash compactor, this trio blends the talents of Temple of Bon Matin's sax magnate Vinnie Paternostro, the twisted processing and electronics of Jon Simler, and the drumming of Sam Lohman. No hyperbole is needed to describe Mr. Lohman's kitwork; he has served as the US tour drummer for Acid Mother's Temple, backed up Stooges sax giant Steve McKay, and contributed to Osaka's 90s underground avant rock trio Nimrod. While living in Osaka, he developed his own solo electronics project 36, which continutes to this day. Mr. Lohman and Mr. Simler currently form the "go go noise core" duo Cash Slave Clique, known and loved in Minneapolis. Mr. Simler also works in "power electronics" as Rape Ape (see CDR below). And Mr. Paternostro needs little introduction, as he's been all over thos great TOBM discs from Siltbreeze & Hanson, and has kept it strong alongside sax legend Arthur Doyle. Despite all this pretentious resume bleating, the shit rocks. So much so that they are opening all the shows on Acid Mothers Temple's Spring 2009 US tour. No lie. Sleeve decorated with full-color tipped in artwork, with hand painted "blood splattered" labels, and includes stickers.

---


TL0741--Magnetic Injuries CDR
Beautifully crafted solo electronics works by analog synth master Pat Gillis, who also works in "dark wave/goth" duo Angus Brainpan and industrial electronics duo Northern Machine. As gorgeously biomechanical as anything by Jeff Grienke or Asmus Tietchens, and as nuanced with living, breathing machine voices as anything by Morton Subotnick or Donald Erb, these works evoke complex, dark urban dreamscapes any blade runner would be proud to call home. Hand painted sleeves with tipped in interior artwork and lino block printed CDR label.

---


Croniamantal--spooky as it is without meaning to CDR
Named for the anti-hero of Guillaume Apollinaire's surrealist novel The Poet Assassinated, this electro-acoustic, free improvisation project of the Electric Possible concert series gathers a set of local free improvisors and one avant garde poet to create some exciting new sounds. On this recording, bard Buck Downs is backed by Pat Gillis (TL0741) on analog synthesizers; Amber Dunleavy (Echolalia) on theremin; Paolo Vallodolid on cello; Nancy McDonnell on violin; Pressly Dowler on laptop/programming; and Jeff Bagato (Tone Ghosting) on cheesy keyboard. What results is a sound as fascinating and dynamic--as filled with movement and delight--as the vocal works of Berio, Nono, or Subotnick. The author of numerous books of poetry, including Marijuana Softdrink, and notorious "postcard poet," Buck Downs contributes two postcard poems and a tipped in chapbook of "lyrics" to this deluxe CDR package. Also includes lino block print and rubber stamping on front sleeve, block printed sticker and CDR label.

---



Hearasay in Paradox Lust--Coitus VI 3" CDR
From a whisper to a scream, the alchemical principles of Sol and Luna slowly conjoin and separate in a mating dance that builds to intense energy as gorgeous choral vocals emerge from massive, roaring drone before drifting into the ether. This is the longest and final track of a series reworking the same sonic material, and a preview of the forthcoming Hearasay CDR "Mysterium Coniunctionis." Packaged in a small manilla envelope with tipped-in artwork, a linoleum block print on the sleeve and another print on the cd label. (left image: front cover; right image: lino block print
inside cover)

---


Ca$h $lave Clique--White Prop$ CDR
Blissfull beats of DC's indiginous "go go" sound plus the power electronics of 36 and Rape Ape combine in new power electronics subgenre: "go go noise core." Includes DC legend Sam Lohman of Nimrod/Japan Overseas records and tour drummer for sax legend Steve McKay and Acid Mothers Temple. Package includes tipped in "magic paper money" and lino block print cover and sticker insert.

"This rudely named Virginia duo churn out a busy, techno-noise, machinist-mob hum that strongly recalls Yellow Swans at their electronic-blizzard best. Play loud."--Minneapolis City Pages
---


Safe--Safe CDR + bonus DVD-R
Towering cloudform castles in the sky constructed from modular Doepfer synthesizer drones and effects combined with banjo/autoharp and electronics. File under "electro-acoustic free-improvisation." Includes bonus DVD-R of live performance at DC's famed Black Cat club during Sonic Circuits festival.

---


Rape Ape--Hello My Name is Rape Ape CDR
Shattering blasts of metallic reverberation, warm silence, and rich dark feedback open new windows into the "power noise" field of dreams. Solo project from one half of Cash Slave Clique.
---


Lung Mountain--Sunset on Lung Mountain CDR
Energy jazz drumming, freekadelic guitar improvisations and theremin washes build two long instrumental jams to bring down the night. Includes bonus studio tracks. From members of "terminal punk" band Alzo Boszormenyi and the Acid Achievers. Package includes unique watercolor painting on front cover and linoleum block print on gatefold interior.
---


Hearasay in Paradox Lust--A Lusty Lay CDR
Psychedelic drones, trance rhythms, soaring vocal harmonies, and fairy tale scenarios in a Medieval folk vein created through turntablist collage. Somewhere between Negativland and Nurse with Wound lies Hearasay in Paradox Lust. The second album; includes illustrated booklet.
---
coming soon: TL0741, Alzo Boszormentyi & Acid Achievers Radio Sessions, Sonic Suicide Squad, Field Shaman, Croniamantal, Constant Mauk, Twilight Memories of the Three Suns, Tone Ghosting, Spaceships Panic Orbit

---
Other Panic Research Audio releases:


Matt Weston + Tone Ghosting Duo--Live at Sonic Circuits EP mini-CDR
Over-the-top blur of freak beats and kaliedoscopic textures improvised by percussionist Matt Weston and electronic noise project Tone Ghosting. Two tracks recorded live on Oct 8, 2006 at Sonic Circuits Festival, Warehouse Next Door, Washington, DC. Special release prepared for their July 2007 mini-tour. Packaged in plastic sleeve with full color sleeve insert and lino-block print disc label. 30 copies.
---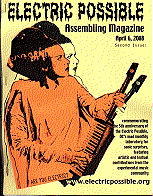 Electric Possible Assembling Magazine #2
Celebrating the 5th anniversary of DC's monthly series for experimental music, musicians and artists contributed pages featuring project documentation and artwork. The pages were collated into a 20-page booklet, including artwork from Ms. Conception, 27+, Nuss, Safe, Tone Ghosting and CDRs by Safe, Piasa, and Whitehouse (live in DC), and DVD by Safe. Each book is different! 40 copies

---


Electric Possible Assembling Magazine #1
Celebrating the 4th anniversary of DC's monthly series for experimental music, musicians and artists contributed pages featuring project documentation and artwork. The pages were collated into 14-page booklet, including artwork from Echholalia, Layne Garrett, Safe, Tone Ghosting and CDR by Luke Wyatt/Team FILO. Each book is unique! 100 copies
---


Tone Ghosting--Aktion in the Ruins CDR
Dense, frenetic blasts of electronic and electro-acoustic percussive sound and abstract vocalizations forged during live studio improvisations. Packaged in black faux alligator skin "leatherette" sleeves handmade from recycled plastic bags. 50 copies.
---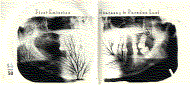 Hearasay in Paradox Lust--First Emission CDR
Turntablist detournements explore psychosexual and metalingual foundations of modern society through hypnotic collages of voice and electronic sound. Astronauts, businessmen and priests speak from beyond the matrix. Quote from Wilhelm Reich prepares the grey room for enlightening amusement. Sleeves printed on salvaged antique stationery. 50 copies.
---


Tone Ghosting--Wig Fleet mini-CDR
Four "remixes" using the same loop featuring sounds scraped, beaten and scratched from vinyl LPs using a small hacksaw combined in maximal rushes of electronic beats and abstract vocals. Includes full color mini-poster, hand stamped CD label. 30 copies.

"...jumbles of moist-sounding noise, overlaid with random beat action and effects. It's good, weird homemadeness."--Byron Coley, The Wire, March 2007

"...tinny woodland creatures playing instruments such as a hacksaw, vinyl, FX, and drum machine....It is heteroglossia made disc, spread out across one-half an hour and that's more than one can usually expect from three twinkling inches."--David Cotner, Signal to Noise, Spring 2007

---


Tone Ghosting--Jettex Humaine EP CDR
Frenzied electro-acoustic improvisations built around a loop of sounds drawn from vinyl LPs played with a small hacksaw and abstract vocals. First release. Packaged in hand stamped, full color sleeve made from recycled tyvek envelopes.
---
Anti-records:


DJ Panic--Disques Combats CDR + scratched vinyl LP
Power electronics meets pulse music meets abstract techno meets free improv when DJ Panic takes hacksaw to old vinyl LPs, releasing a fast-flowing avalanche of violent crashes, freaked out squeaks, vicious growls, tornado force gales, radioactive clicks and pops. On this solo performance, recorded live with no overdubs in Fall 2002 at Many Spaceships' Digital Basement studios, DJ Panic demonstrates two different playing techniques: Rhythmic Droning and Phrases. This is the music of eros: destroying the corporatized music of the death culture never felt so good. Deluxe handmade package incorporates recycled and salvaged materials and includes one CDR recording (52:50 mins), one vinyl LP scratched by DJ Panic, tyvek sleeve, linoleum block print, inserts, & lino-block print on CDR label. 100 copies. $25.00.
---


DJ Panic--Dead Record 2xLP
DO NOT PLAY THIS RECORD! Two vinyl LPs scratched by DJ Panic using a small hacksaw during live and studio performances. A unique anti-record art object. There is no music on this record. Packaged in handpainted, recycled LP sleeves, with tipped in labels, with Lino block print and inserts. DJ Panic was the first step in the genesis of Tone Ghosting. 100 copies. $25.00.
---
Also available:



District of Noise compilation CD
Compilation of 17 (seventeen!!) DC-based "experimental" groups demonstrating the stylistic variety and exciting energy of a music scene recently documented in Signal to Noise and NPR's "All Things Considered." Relased by the Zeromoon label in conjunction with the 2008 Sonic Circuits festival, this professionally designed and manufactured compact disc includes works by Panic Research Audio recording artists Cash Slave Clique and Tone Ghosting, along with great stuff by BLK w/Bear, Blue Sausage Infant, Caution Curves, Echolalia, Janel & Anthony, T.A. Zook, Mind Over Matter Music Over Mind, Northern Machine, RDK, Corpus Callosum, Cutest Puppy in the World, Myo, Barsky/Allison, Twilight Memories of the Three Suns, and Violet. Forget puerile categories like drone, power electronics, free jazzy freakery, industrial--each of these artists manages to hyphenate together several genre concepts in unexpected ways. We have a few copies here, at $10.00 each.

---


Panic Research Agency logo buttons. 1" diameter. $1.00 each.
---


Tone Ghosting--Castle Changes EP CDR (Sockets CDR)
Patented TG sound of frenzied electronic percussives and abstract vocals taken to new level with melodic song. These "remixes" are original improvisations built around a single loop performed live in combination with electronic beats and abstract vocalizations and using a single thematic thread. 60+ minutes of music. Packaged in slim white DVD case with full-color artwork, from Sockets CDR label. 100 copies.

---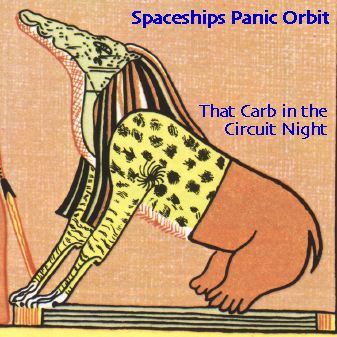 Spaceships Panic Orbit--That Carb in the Circuit Night CDR (Nut Music)
Electro-acoustic free improvisation trio featuring members of The Plums, Hat City Intuitive, and Tone Ghosting. Guitars, FX, electronics, laptop melded in freeform alloy of remarkable ductility and strength. Packaged in recycled jewel box cases with ull color sleeve art. From Nut Music label.