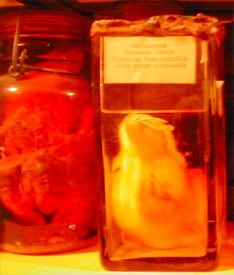 Wormy Weather
U.S. National Parasite Collection

U.S. National Parasite Collection
U.S. Department of Agriculture
Agricultural Research Service (ARS)
Beltsville Agricultural Research Center (BARC)
Beltsville, MD
(301) 504-8444

Most of us consider the parasites as the lowest form of life. They feed off other creatures, usually following the food source straight to the alimentary canal, often settling at its nether end. We find this exploitative existential condition unforgivably dirty, nasty and opportunistic, so we turn it into the stuff of horror films: Dracula, The Tingler, Alien, Cronenbergís libidinous pseudo-organs in Shivers. These things get under our skin and eventually snatch our bodies and our minds...making Pod People wherever they go.

Look at the real parasites--the tapeworms, ticks, flukes, fleas, and so on--another way, and they can be a case study of lifeís marvelous diversity and determination. Natureís first law seems to be "find a niche and fill it," and the parasites just went where no others dared to tread. The same evolutionary law could apply to scientists. When all the good stuff is taken, it's time to take up with parasites. But once you join the parasitologists, youíll see how important the bugs they study really are.

Not surprisingly, the DC area is one of the greatest places in the world to view parasites--and not because Congress meets here. In all seriousness, possibly the worldís largest collection of parasites is housed in nearby Beltsville, Maryland, on the campus of the USDA's Agricultural Research Service. Itís just another national treasure weíre lucky to have close by.

The U.S. National Parasite Collection contains approximately 20 million specimens, a number rivaled only by the British Museum. The specimens are contained in more than 100,000 lots, where a lot is a single jar or prepared microscope slide. Some jars can contain thousands of tiny creatures. These numbers donít include several large specialized collections and private donations. And the collection as a whole grows at the rate of 1,000 to 1,500 lots per year.

That's a lot of little uglies, but better here than in your personal business!

It's also one of the country's [world's?] oldest parasite collections. Back in the mid-19th century, Charles Wardell Stiles and Albert Hassall were studying parasites for the USDA's Bureau of Animal Industry (a precursor to the Agricultural Research Service) when they decided the nation needed a big stockpile of creepy crawlies. So in 1892 they pooled their private piles of parasites to form the Bureau of Animal Industry Collection. Many of their specimens dated to the earlier 19th century and to Europe, where they'd both been trained and established their careers. Two years later, the jars and slides full of worms (aka helminths) were catalogued as the US National Museum Helminthological Collection and considered part of the Smithsonian Institution, while the ticks, fleas, microbes and other parasites still went by the old name. To strengthen the link with the Smithsonian, the curator of both collections was named a Research Associate of the SI--a tradition that continues to the present time. The two collections were reunited in 1936, when all specimens and records were moved to a permanent home in Beltsville. Over the years, the collectionís name changed several times, but by 1977 the curators had settled on the current one, the U.S. National Parasite Collection.

Now curated by J. R. Lichtenfels, Pat Pillett, and Eric Hoburg, the collection resides in a long rectangular building deep in the sprawling, 7,000 acre BARC campus, surrounded by the suburban roads and shopping plazas of Beltsville. The BARC complex contains a working farm, an experimental farm, and 47 laboratories! [NAME some of these labs?] It makes sense that the complex ranks as one of the largest and most diverse agricultural research complexes in the world

First road challenge: find the right campus! Driving along Powder Mill Road, the first BARC area I pass has massive buildings visible from the road, but I'm turned away by forbidding signs about restricted areas and police intervention. Further down the road, there's another area thatís more friendly to visitors. Bicycle and automobile traffic regularly passes through here, and they even have a visitorís center, which lies between me and the parasites. Turning off onto the grounds, I disappear onto farmland, winding along what look like country roads, passing empty fields, cow pastures, and the occasional institutional building. Eventually, I arrive at the Log Lodge, a 1930s relic literally constructed out of massive logs, which houses the ARS National Visitor Center. A fantastic piece of architecture, the Log Lodge looks even better on the inside, where the softly rippling log walls glow with a warm, golden hue. The high, open ceiling reveals sturdy, barn-like rafters. From the main exhibit space, I can see luxurious side rooms that seem to be taken from an old mountain ski lodge. And there's a beautiful, massive spiral staircase constructed out of cut and planed logs.

The visitor center represents many of the Agricultural Research Serviceís projects, including experiments with soybeans, corn, the "industrial uses of plants," and milk production. I even find a small glass display case dedicated to the "Fungi in Our Lives." Among the dried, naturalistic specimens, I'm astonished to see a bowler hat and lady's handbag--both full-sized and fully functional--and both carved in Hungary from beech tree fungi! They should be selling copies of them in a gift shop!

These wonders provide little distraction from my mission: visiting a rather small, square glass case filled with gruesome ghastlies. Here there be parasites! On the phone, Pat Pillett told me these are "some of the best" specimens, but they wouldn't have to be to turn your stomach away from the idea of foodstuffs. Chief among the horrors: a catís head covered in a bumpy, brown goo obscuring the top of its head and one ear. This feline affliction has been identified as "scabies or mange," and the whole mess, head and all, has been bleached white by the surrounding formaldehyde. In life, the cat had been the pet of one of the collectionís founders, Dr. Albert Hassall, proof that some people will save anything.

Another jar has been sealed by a guillotine-like, heavy duty metal clamp that presses the lid tight with a screw mechanism; itís as if the scientists wanted to guarantee these suckers never got loose! Inside, a small fish floats head up with a large worm protruding from its belly. The label helpfully notes that weíre looking at a "Larval tapeworm in fish," and that the specimen was drawn from the James River, near Richmond. So no more fishing there, anyway. Another jar seems full of beans, but no, theyíre fly larvae from a horse's stomach. Looks like part of the stomach's there, too!

I'm also drawn to the unusual mounts made of cardboard squares with glass bubbles in their centers, under which are preserved various nasties: one contains a piece of dog skin infested with a dozen or so engorged wood ticks; another has a beef tapeworm taken from the "intestine of man." Theyíve got a lot more of these mounts further down the road.

Speaking of worms, check out the jar containing an English setter heart with long curled heartworms emerging. And you canít miss the jar filled with a black substance that highlights the elegant curl of the thick, tapered worm inside; the label identifies this monster as acanthocephala, noting, "Its head possesses long spines with which to attach in the pig's intestinal tract." Take that, carnivores! Another jar contains long strands of something that looks like noodles, but the label identifies as worms. Nematodes, that is. They're the stars of the U.S. National Parasite Collection, and I know I must venture forward, even though Iím reluctant to see more of these things!

The Parasite Collection itself lies a little deeper on the campus. From the Log Lodge, the short drive on a couple country roads leads past empty fields and along a vast chain link fence that I can see surrounds a collection of small white houses off in the distance. I must pass the security gate and venture into a zone that resembles the set of a z-grade movie about mad government scientists gone wild with hard radiation, exotic creatures, and voluptuous assistants.

I find Pat Pillett downstairs in the tiny lunchroom, where she's been logging new acquisitions at the computer. The specimens themselves lay on the lunch table. Okay, they're on prepared slides and sealed away in little vials, but still. A sign on the refrigerator warns, "This is for food only." Clearly, the curators have grown a little too accustomed to hanging with parasites. This room apparently functions as the brain cell of the collection, and from here, I can see a few of the shelves in the main storage room through the doorway.

I expected the storage room to be larger; it seems too small to hold the two million (and counting) specimens in the collection. Of course, parasites are tiny creatures, and the space is maximized by compact shelving that can be rolled tight together and expanded for easy retrieval. The first stop on our tour, a pair of old-fashioned wooden cabinets with glass fronts, stand to the left of the doorway along a wall across from the main shelving. The cabinet shelves are lined with the same flat cardboard squares with glass bubbles that I saw in the Visitor's Center. Pat calls them "Riker mounts." Switching on the cabinet lights creates an instant slide show revealing segments of flat worms, ribbon-like knots of tapeworm, patches of skin infested with ticks, or some other infernal blight. Scanning the illuminated set produces mixed feelings of horror and wonder. One thinks of plagues and body horrors--the revenges of Doctors Phibes and Moreau. And yet these geometric forms, stained brown or a dark red, can seem oddly attractive. One understands how curator Eric Hoburg could declare them "beautiful."

Over on a work desk, a more gruesome sight awaits: a pair of dog kidneys in a glass box, one cutaway to show the tightly coiled roundworm packed into the hollowed-out organ. These giant kidney worms--long but very thin--live in all canids, the group that includes dogs and wolves.

The largest worm in the collection stretches to about 18 inches long and a fingerís width around. It lies stretched out in a glass tube barely larger than its contents. Pillet says this is tiny compared to the eighteen foot monster taken from a whale; that worm now resides in a Russian museum.

Pat moves to one of the long compact shelves loaded with jars in all shapes and sizes with ominous looking contents. Some jars look like normal mason jars, with a clamp lid and rubber seal; some have plastic screw top lids. The oldest are sealed with the screw-top clamps I saw in the visitors center, only bigger. Between these large jars, the heavy duty seals, and their macabre contents, I'm beginning to feel like I've entered a medieval chamber of horrors. After viewing a few choice specimens, I'm struck with the uncontrollable urge to wash my hands and purge myself. Suddenly, Obsessive Compulsive Disorder makes sense--one washing may not do. Even reading about this stuff may send you to a good soaking in antibacterial soap.

How gross could it be? You had to ask.

Check out this jar containing a small, bleached-out fish thatís been choked with long, thin spiraling worms. This fish was among those collected from some Baltimore fishermen who had been using them as bait--and, in a moment of desperation, as snacks! According to Pat, they ate them "with their beer." As we pause for a moment to gag, a few reasons NOT to eat wormy fish come to mind. First, it's gross. Second, you can get peritonitis, like the fishermen did, and this can be fatal. Quick-acting parasitologists saved the men and, not incidentally, collected samples of the scourge. Pat shows off a jar filled with the very worms taken from the affected men!

Here's a jar containing a section of a horse's colon infested with larval botfly. Pat launches into an invaluable lecture on the botfly life cycle, including how their grubs bore through the side of the horse so they can fall to earth, pupate, and emerge as flies. Imagine calling in sick with that little problem!

Another jar contains no liquid, but it doesn't need it to preserve the dry vertebrae inside. This section of a pig's backbone displays conspicuous holes bored through it--the work of a nematode specialized to this lifestyle. At this point, Pat tells me that the collection teaches important lessons about how parasites adapt to specific creatures and attack specific organs. Some parasite life cycles can be very complicated, Pat notes, with certain worms moving from snails to sheep to man and back to earth--remarkable for its dependence on three species!

How can Pat remain so calm, so enthusiastic about these nasty things? You'd sort of expect that from someone who's made parasites their life's work. She's been a curator here since 1977, and worked for BARC for ten years before that, focusing on plant nematodes. (Sure, plants have parasites, too. So even vegetarians aren't safe!) But Pat's home here was established long before that. Her father, Allen McIntosh, was curator of the collection from 1930 to 1962. She recalls visiting the lab as a girl, cleaning her fatherís office and gazing at the specimens.

"I grew up with those Riker mounts," she says. While her sister retreated in disgust, Pat settled down to listen to her father discuss his work. "He'd talk about what he did, who sent him something," she remembers. "You knew when he'd sealed some nematodes, because he used creosote and it smells bad."

"Basically, I grew up with this, so itís second nature to me," Pat continues. "I grew up with all the guys that were here." She even remembers accompanying them on outings with their bowling league!

The shelves stretch on. The limitless supply of shocking samples can seem, well, shocking. Pat calls my attention to several extra-special specimens. Take a look at the preserved puppy's head with nematodes emerging from his cute little nose. Well, it was cute until the formaldehyde bleached everything the same off-white color. As if the implications for cross species infection of this specimen weren't entirely clear, Pat rapidly recites how an infected dog might poop in a sandbox where the wormís larvae could move to your kids. This anecdote turns into a lecture about recent findings by curator Eric Hoburg proving that man actually first transmitted these parasites to the wolves they domesticated! Itís only fair that they should give them back.

Pat scans the cluttered rows of jars and comes up with one filled with what looks like leaf-shaped pieces of gray rubber about two inches long and an inch wide. You sure donít want one of these where the sun donít shine. "I like these because theyíre so big," she says. "Theyíre liver flukes taken from deer."

A much smaller jar contains a single creature that resembles a large pillbug. This isopod lives in a fish's mouth, feeding on scraps of food as they go down the fish's gullet, thus robbing the host of nutrients. The male and female isopod will snuggle in there together, resting above the fishís tongue. Even as she recounts these facts, Pat herself is incredulous: "Show me where a fish has a tongue! I guess I haven't cut the heads off many fish."

Pat picks up a regular mason jar, turning it in her hand to swirl the liquid and the thin, pasta-like things in it, while rattling off their scientific name. "There's probably thousands, thousands of worms in this jar!"

There are millions more just waiting on the shelves to be examined. In a way, I'm glad I don't have time to visit them all.

Visiting the Collection
Given the small staff, cramped quarters, and security gauntlet, the U.S. National Parasite Collection has not been set up to receive visitors. Casual parasite observers will get an eyeful at the ARS National Visitor Center, where they can temper the horrors with the glories of the Log Lodge (and the fungus hat). You can schedule a tour of the BARC campus by calling the Visitor Center in advance [at 301/504-9403], and they'll bring you by the main parasite compound. Once in a while, Pat admits, with advance notice she can accommodate small groups of enthusiastic visitors.